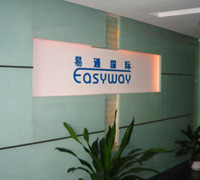 Easyway is in possession of Non-Vessel Operating Carrier Certificate and Class-A Forwarding Certificate, National AAAA Class Integrated Logistics Enterprise, Top 100 China International Freight Forwarding Enterprises and Top 50 China Private Freight Forwarding Enterprises.

With rapid development, Easyway accumulates the richest experience in international transport services, gains the deepest trust from customers, develops a solid market base, and establishes an excellent brand image. Easyway maintains good cooperative relationship with port authorities; Qingdao Port, Tianjin Port, and Ningbo Port. Easyway is the agent for several world's leading shipping companies; MAERSK, CMA, OOCL, APL, KLINE, and SINOTRANS.

Easyway is specialized in the international multimodal transport services of import and export cargoes with supporting services; booking, customs declaration, commodity inspection, container devanning, and insurance. Easyway provides large logistics project design and project operation services.

Easyway has advanced logistics information system, container yard, and truck fleet for providing one-stop logistics chain design and management service for customers.

Easyway's philosophy: customer focus, pursuit of excellence, safety and convenience, and striving for perfection.

Easyway will be with you to create glamorous future.